Science is like an endless roller coaster
The best lecture in the postgraduate section of the 23rd Student Scientific Conference of the 1st Faculty of Medicine of Charles University was presented by Michaela Přibíková, who presented her work CMTM4 is a subunit of the IL-17 receptor mediating autoimmune pathology. Michaela is working in the laboratory of Peter Dráber at the BIOCEV centre, where she focuses on immune and cellular communication.
What was the content of the winning lecture?
Recently I presented our work at a Student Scientific Conference of the 1st Faculty of Medicine.  In this work, we focused on inflammatory processes activated by the major pro-inflammatory cytokine Interleukin-17 (commonly known as IL-17). IL-17 has an important role in host defense against pathogens and patients deficient in IL-17 develop severe candidiases. On the other hand, the dysregulation of the IL-17 signaling pathway is associated with a number of autoimmune conditions, such as rheumatoid arthritis, psoriasis, or multiple sclerosis.
We recently developed a method to study the composition of the IL-17 receptor signaling complex via mass-spectrometry. Using this approach, we identified a new component of this complex, CMTM4 protein, which is critical for proper IL-17 signaling and we established this protein as a crucial subunit of IL-17 receptor.
What is your research goal at BIOCEV?
I am a Ph.D. student in the Peter's Draber laboratory of Immunity and Cell Communication. We focus on searching for new mechanisms regulating inflammation and autoimmunity by combining in vitro experimental approaches (e.g. mass-spectrometry, CRISPR-Cas9 methodology, flow cytometry) with in vivo animal models.
Our main goal is to elucidate the mechanisms of how communication between immune cells regulates immune responses against pathogens and tolerance for host own tissues. Based on this research, we aim to identify the mechanisms to modulate crosstalk between cells to treat autoimmune disorders and cancer.
Picture: CMTM4 promotes IL-17RC plasma membrane localization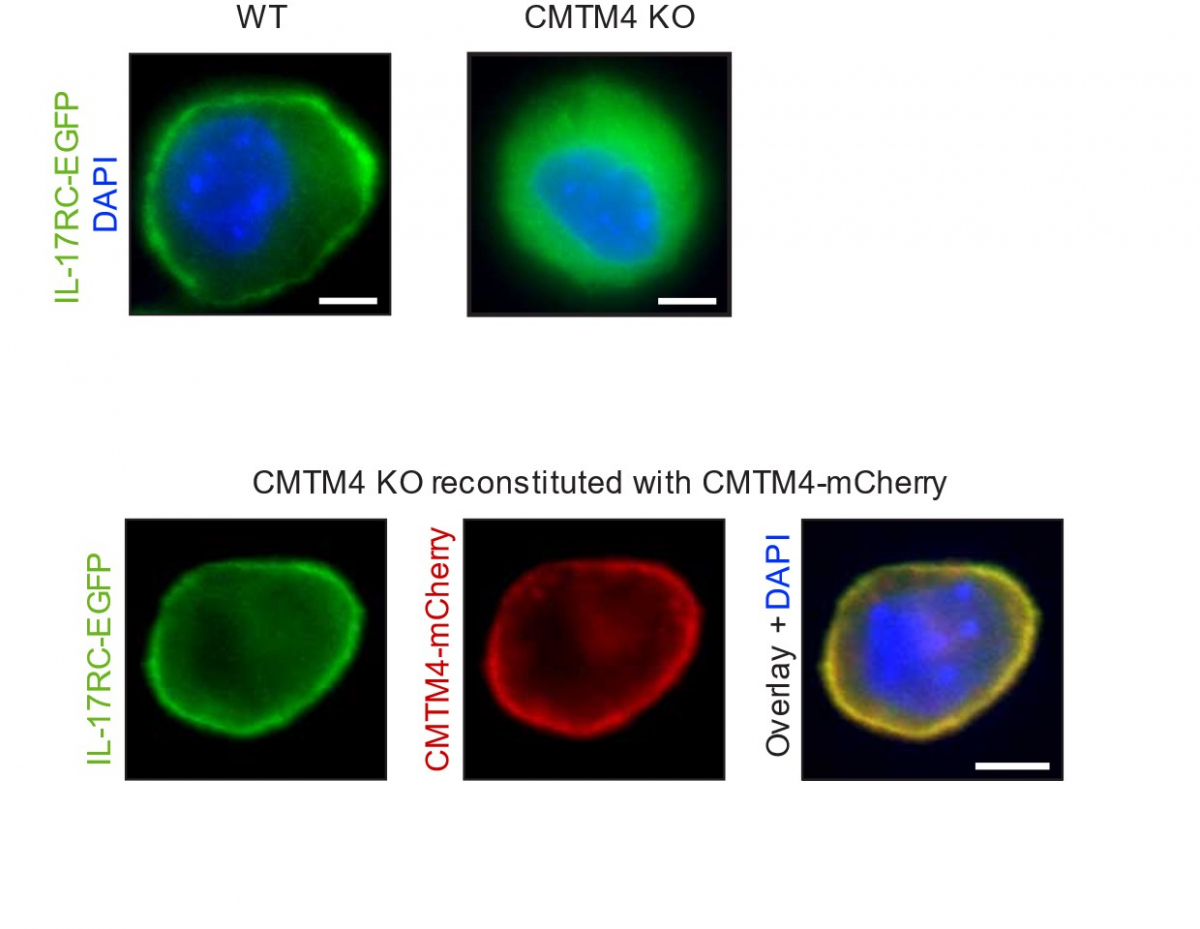 What do you like about working at BIOCEV?
BIOCEV offers a really pleasant work environment. Nice modern building with all the necessary equipment and experts from different fields working on unique projects create a perfect place to deepen our knowledge and improve scientific career.
Why did you decide to study science and medicine?
Ever since I can remember I have been fascinated by science. I love that we can be the first ones to discover something new. The feeling when we find the answers to some challenging questions is really enjoyable. And of course, with more answers, more new questions arise. For me, science is like a never-ending rollercoaster which makes it really thrilling.
How do you relax outside the lab?
Outside the work, I love to do the things that help me clear my mind. My biggest hobby is hiking in the mountains no matter the weather or season. When I want to relax even physically I love to crochet and create various crochet things for my family and friends.
Thank you and good luck!

Author: Lauren Marlier, Communication and PR Intern at BIOCEV | Student at North Carolina State University
You can see Michaela Přibíková's winning presentation HERE
More information about the PhD programme at the BIOCEV Centre can be found HERE