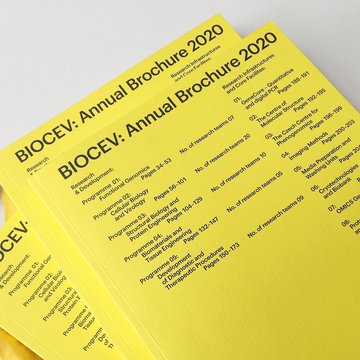 BIOCEV: Annual Brochure 2020
The publication was prepared on the occasion of the five-year anniversary of the joint research facility of the Czech Academy of Sciences and Charles University in Vestec.
Due to its size (230 pages), the book was printed in a limited edition of 100 copies and only in English. The printed version is designated primarily for heads of laboratories, research infrastructures and service units within the BIOCEV Centre. Last but not least, it will also be distributed to important partners and foreign delegations heading to our centre.
The graphic design and processing was again handled by graphic designer Martin Kolerus, the author of our website and the first edition of our brochure from 2015.  
We asked Martin for a brief statement:
"The aim of the publication was to represent BIOCEV as a whole, consisting of two main parts – research programmes and research infrastructures. Recognizing the importance of each individual laboratory, we decided to reflect this importance using a universally defined generous double-page space dedicated to each of them.
The graphic layout of the left part consists of a cascading design of the main text in combination with a tabular representation of the associated information, which creates graphic harmony and connects the individual typographic elements into a whole with a visually professional character. The right side was reserved for images and works with the text, and in terms of composition, balances the entire appearance of the whole double page.
Research infrastructures graphically combine basic information, contacts, keywords, research focus, instruments used, and a core text supplemented by photographic material. The layout incorporates the corporate yellow colour. The formatting of the text follows the research groups, and the text is supported by photographs reflecting the content.
The entire brochure is complemented by double-page frontispieces in the form of chapters underlined in yellow. Another striking element is the double-page reproductions of microscopic images. The last section includes photographs from the laboratory.
The variety of photographs that have been used on the frontispieces helps the readers' perception when flipping through the large volume of specialised information and adds greater dynamic to the brochure. The cover is rendered in the corporate colours and bears information about the brochure's contents on the front, combined with a brief text extracted from the key information on the back."
The current presentation of all research teams and infrastructures can be downloaded HERE. Feel free to share it:)
Thank you!