About us
The Clean Room Laboratory is intended for the manufacturing of medical devices, medicinal substances and investigational medicinal products, in accordance with the requirements of the registration or authorization for a clinical trial. The laboratory has established a pharmaceutical quality system that respects the guidelines of the European Community Commission 2003/94 / EC, 91/356 / EEC and 91/412 / EEC laying down principles and guidelines for good manufacturing practice, quality assurance and quality risk management (GMP).
The pharmaceutical system in CRL IMC is fully documented and archived. The Laboratory has available clean rooms corresponding to classes from "D" to "A" according to GMP classification, appropriate instrumentation, qualified staff and established documentation system. The aseptic production takes place in the clean room of the "A" class, while preparatory laboratory work is carried out in the "C" class. The isolator with a built-in lyophilizer is designed to handle biologically highly active substances. CRL IMC includes the analytical laboratory with HPLC and spectrophotometer in GMP mode.
The laboratory processes projects focusing on the chemical production of both internal and external contractors.
Services:
The Clean Room Laboratory offers:
Basic chemical synthesis and processing of the product (even with active pharmaceutical substances)
Polymerizations
Hot air or steam product sterilization
Lyophilisation
Final processing of the product with a requirement for sterility or apyrogenicity
Analytical control of intermediates and products
Equipment:
Isolator with built-in lyophilizer for aseptic production and for processing of a biologically highly active substances (cytostatics, immunosuppressants, hormones etc.).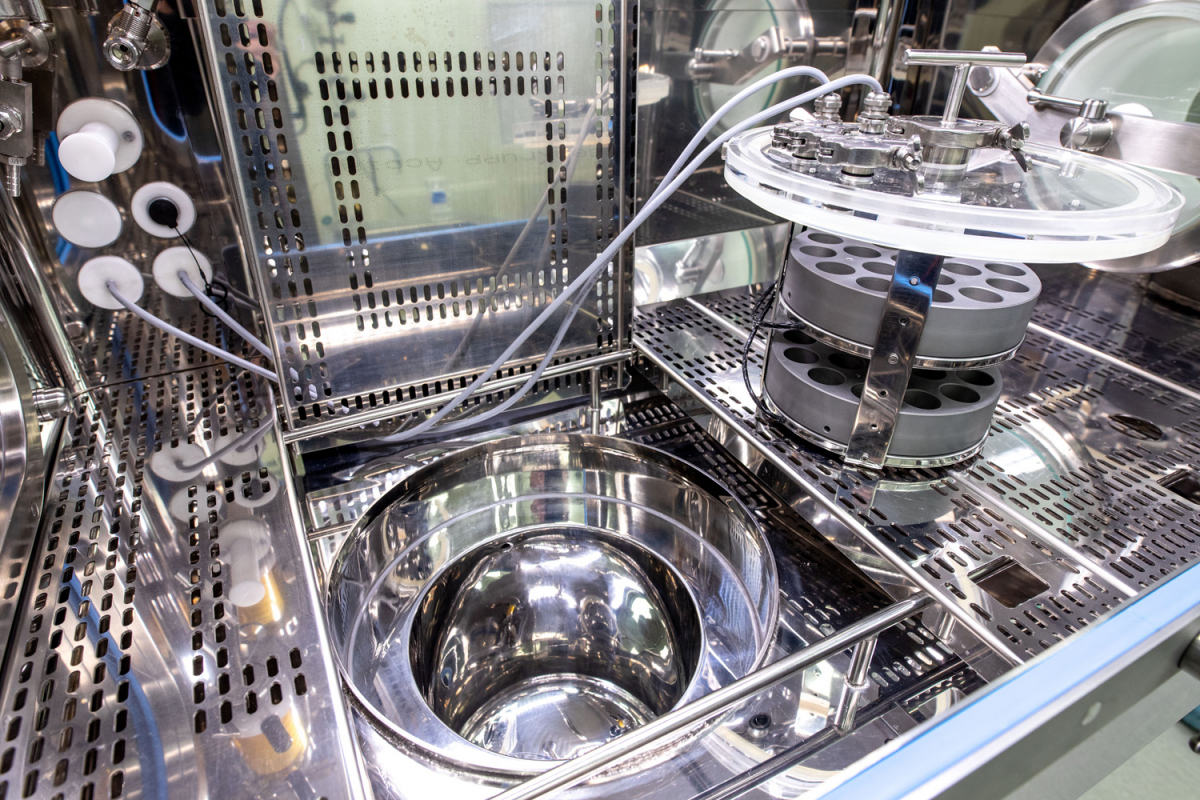 Shaking incubator
Vacuum dryer
Steam autoclave
Hot air sterilizer
HPLC
Spectrophotometer
Particle counters, aeroscopes, microbial contamination control incubators and other equipment needed to provide GMP practice
References:

AUMED s.r.o. – synthesis of hydrogels for bacteriophage delivery
VH PHARMA a.s. – synthesis and packaging of polymer solutions in aseptic conditions
C2P s.r.o. – processing and packaging of bacterial lysates
Development of hydrogel constructs for anticancer drug delivery into the eye globe for retinoblastoma therapy – synthesis of sterile hydrogel implants for in vivo experiments
Certifications:
The Clean Room Laboratory got certification ISO 9001:2015 issued by company SGS.