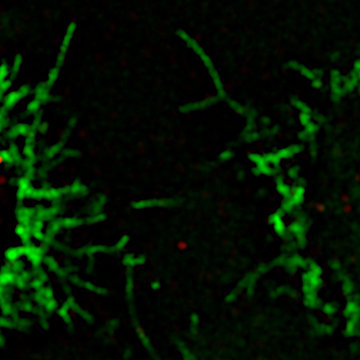 PhD Student - Tumor specific regulation of cell cycle in lymphoma with implications for its therapy
Our laboratory focuses on basic tumor biology of lymphomas (malignant tumors derived in majority from B-lymphocytes) with close relation to the basic biology of B-cells. Our laboratory has expertise in general molecular biology and cell culture techniques as well as genomic applications, flow cytometry or advanced methods like super-resolution microscopy, trageted genomic modifications, or Förster resonance energy transfer based biosenzors.
Project: Tumor specific regulation of cell cycle in lymphoma with implications for its therapy
Signaling by the the PI3K (phosphatidylinositol-3-kinases)/AKT (protein kinase B) pathway is essential and highly regulated in lymphomas (malignancies derived in majority from Blymphocytes). The link of PI3K/AKT aktivity to the cell cycle regulation is well established. We have precisely documented the exact variation of the AKT aktivity throught the cell cycle and documented the reqirements of this variation for the cell cycle progression in lymphomas. However, specifics of this variation regulation in lymphoma are missing. The aim of the project would be to elucidate those mechanisms and utilize the information for novel lymphoma therapy develpoment.
We are looking for entusiastic candidates who are interested in high quality basic and translational tumor biology research and are willing to learn a wide spectrum of advanced research methods.
We offer position in a young and dynamic research group with established international colaborations working within the BIOCEV institute with its exceptional core resources and equipmnet.
BIOCEV, Vestec
Position is available immediately (April 2020) with part time salary in addition to the Ph.D. stipend with two-year extendable contract.
Applicants are encouraged to provide short CV with motivation statement in english no more than one page long to ondrej.havranek@lf1.cuni.cz