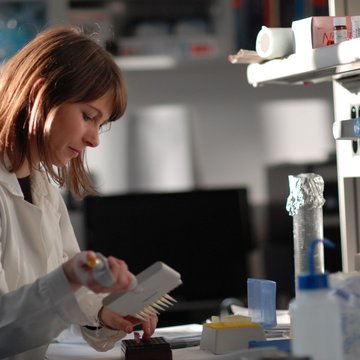 Kateřina Rohlenová received EMBO Installation Grants
This year, six group leaders have received EMBO Installation Grants. One of them, and the only recipient in the Czech Republic, is Kateřina Rohlenová from the Institute of Biotechnology AS CR in the BIOCEV centre, who is also a recent holder of a prestigious ERC grant.
"We are delighted to welcome these talented scientists," says EMBO Director Fiona Watt. "EMBO promotes excellence in the life sciences throughout all parts of Europe, and beyond.
Each group leader receives 50,000 euros annually for three to five years and can also apply for additional grants of up to 10,000 euros per year. Further benefits include access to training courses and core facilities at the European Molecular Biology Laboratory (EMBL) in Heidelberg, Germany. The grantees become part of the EMBO Young Investigator Network which consists of EMBO Young Investigators, Global Investigators, and Installation Grantees.
Collaboration is hugely important for Rohlenova's research and she highlights the value of working with clinician scientists. As a postdoctoral researcher in a large laboratory in Belgium she had already built a network of contacts now spread across Europe, and plans to develop it further. "The EMBO Installation Grant really gives me the opportunity to be involved with the scientific community," she explains. "The networking is what I appreciate most: having people who do great science around you and the opportunity to discuss our research."
Katerina completed her Ph.D. studies with Prof. J. Neuzil from the Institute of Biotechnology of the Czech Academy of Sciences at BIOCEV, where she focused on the metabolism of breast cancer cells. She characterized the mechanism of action of a mitochondria-targeted anti-cancer compound MitoTam, which recently passed a successful phase I clinical trial.
During her postdoctoral training in the laboratory of Prof. P. Carmeliet (VIB - Center for Cancer Biology, KU Leuven) in Belgium, she focused on endothelial cells, which form the lining of blood vessels and ensure tumor blood supply. She characterized tumor endothelium using the powerful single cell omics technology and identified new molecular approaches to target abnormal tumor vasculature. Her work was awarded the Werner Risau Prize by the German Society for Cell Biology for outstanding research in the field of endothelial biology.
In 2020, Katerina returned to the Czech Republic to start a new research group, the Cell Metabolism Laboratory, at the Institute of Biotechnology in BIOCEV. With her team, she aims to explore metabolic communication in tumors to identify new metabolic anti-cancer strategies.
About EMBO
EMBO is an organization of more than 1,800 leading researchers that promotes excellence in the life sciences in Europe and beyond. The major goals of the organization are to support talented researchers at all stages of their careers, stimulate the exchange of scientific information, and help build a research environment where scientists can achieve their best work.
EMBO helps young scientists to advance their research, promote their international reputations and ensure their mobility. Courses, workshops, conferences and scientific journals disseminate the latest research and offer training in techniques to maintain high standards of excellence in research practice. EMBO helps to shape science and research policy by seeking input and feedback from the community and by following closely the trends in science in Europe. For more information: www.embo.org