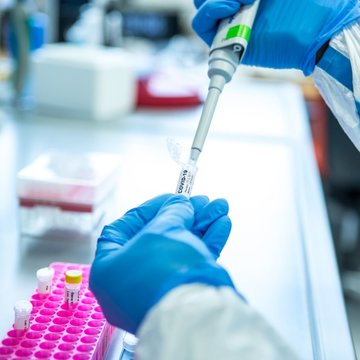 Ph.D. in SARS-CoV-2 research and protein engineering
Laboratory of Protein engineering is looking for talented PhD students to join our team and helping us to address the appealing question: What variant of SARS-CoV-2 will emerge next? This project sprouts on our previous successful applications of protein engineering in SARS-CoV-2 research (1, 2) and extends it for further exploration of protein interaction plasticity. The research will combine aspect of protein engineering, immunology, virology and bioinformatics.
The scope of the project is the interfacebetween the viral RBD domain and its receptor ACE2. The interaction interfaces of these two proteins are characteristic with a high plasticity. Most amino acid positions can be mutated without the loss of protein binding. Our goal is to determine to what extend is this valid for RBD – ACE2 at given affinity limit. The selected candidate will use in vitro evolution techniques to evolve the binding interface under different selection pressures and then verify the functionality of newly evolved RBDs.
We are looking for candidates with a university degree in biochemistry, molecular biology, microbiology or similar disciplines that are fluent inspoken and written English. The experience of working with protein production, tissue cultures, flow cytometry, structural biology and virology are advantageous. Enthusiasm for learning of new skills and techniques is essential as well as the willingness travel and participate in internships. Last but not least, proper lab practice, good social skills, personal and scientific integrity, and team spirit are crutial.
A protein engineering lab is being established at the center BIOCEV under the First Faculty of Medicine, Charles University. The lab will be instrumented with all essential equipment needed for the project including protein production, yeast display, and tissue culture work. The BIOCEV Center is equipped with state-of-the-art instrumentation that will be available through its facilities.
BIOCEV
We offer a 3 years contract with a 3-month initial appointment.
Apply now
Interested candidates are encouraged to apply directly to Dr. Zahradnik at jiri.zahradnik@weizmann.ac.il and provide the following documents: curriculum vitae, motivation letter with a description of previous work (1 page), and contact information for references, including the previous supervisor.